As a narrative-driven game, Halo 4 is distinguished by its ability to emote and communicate emotions in the player. However, critics argue that this approach comes at the cost of story immersion.
Halo 4 is a game that has received mixed reviews. The most common complaint is that the story is not good. This article will explain what some of the complaints are, and how they can be fixed.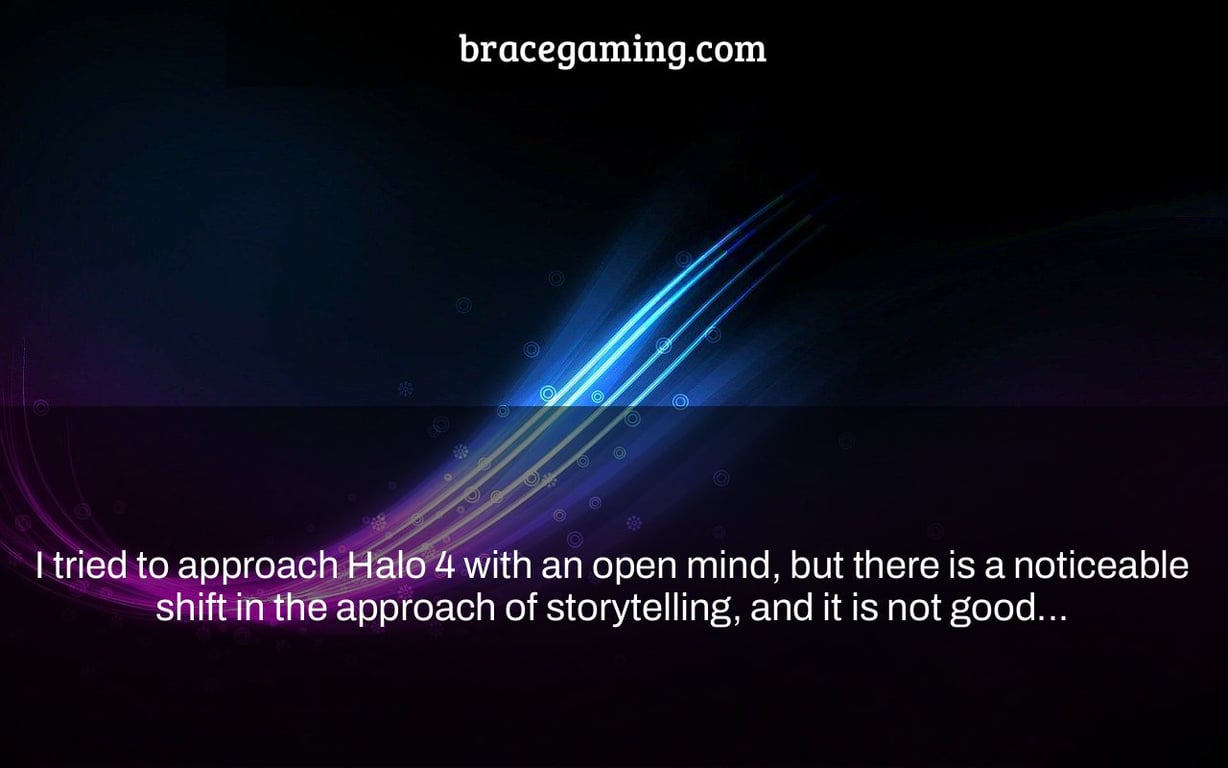 I'll tell you all there is to know about Halo and me. I've never bought an Xbox, and I've had no prior affections towards the Halo series; Bungie isn't "my childhood," and their Halo period isn't sacrosanct or beloved to me. My first encounter with Halo was with Halo MCC on PC, although I was definitely familiar with the Halo series, as I recognized MC, Cortana, The Covenant, Martin O'Donnell's soundtrack, and a few other components.
I have not yet played H5 or H6, so please don't ruin them for me. It seems that I will have to bite the bullet and watch the H5 cutscenes before playing H6, since H5 does not appear to be coming to PC anytime soon.
So, although I like Bungie's heyday, their games, particularly the plot, did not blow me away. I liked it, sometimes even loved it, but I was never completely enthralled by it. Yet, in a trilogy where the first installment is probably the poorest and the third edition may be the greatest, I have never seen a company manage a trilogy so effectively. Trilogies are usually considerably more unbalanced.
Aside from that, there were a few aspects of H4 that I like. The music was largely excellent, and I believe it was better than any of the prior games except H1 and Reach. I know this is controversial, but I felt like the old composers were recycling H1's highlights too frequently after producing it, and they even admitted it in their Halo: ODST discussion.
Finally, MC and Cortana have some personality. MC was an action movie one-liner NPC during the Bungie period, and I never felt anything for him or cared about him other than "hey, that was really great." There's being a stoic quiet type, and then there's having no character other than "badass/tough." We already had Arbiter and Spark, so it's not like Bungie couldn't build fascinating contrasting characters. Cortana, on the other hand, is an exposition machine that sometimes cracks jokes and is carried like MC by the great VA. At the very least, H3 made me feel like a character. It was great to watch MC and Cortana facing so many challenges and concerns. For the first time, I thought MC had been done really well; in fact, his character conflict was what kept me going the most.
In the aesthetic area, I thought 343 did a wonderful job of showcasing Forerunner technology and architecture, and that they finally showed other fucking Spartans other than MC. In truth, there was some "conversation" regarding Spartans (in Bungie era I think they only talk about them in Reach). I really enjoyed the scientist in charge of the Composer's base; her writing and acting were fantastic.
I enjoyed the Halsey opening; she is probably my favorite or second favorite Halo character, despite her little appearance in the games.
H4 following FPS trends is a problem in and of itself, but I can't blame 343 for starting it with Reach and continuing it with Destiny. It's a separate issue, and I'm not going to make it about it here.
But now it's time to get down to business.
So far with H4, I've found the following issues:
Pseudo-Scientific Fiction
Look Although Halo is clearly a science fiction film, there is a striking lack of concern or "feel" for science, military maneuverings, and mythology. Isn't it true that an AI's lifespan is seven years? What the hell is going on here? An AI was created with the help of a real human and may be cured alongside that person. C'mon. That seems really manufactured, like a forced narrative obstacle. Then there's the "Rampancy," what do I mean? I don't see why that should be the case; maybe to a smaller extent, but an AI "wearing out" seems to me like it would start losing data and becoming less useful, responsive, and dependable. We could debate the semantics of this for hours, but it simply didn't seem right to me since it was forceful and out of nowhere. It's a classic instance of "we need a sequel, so we'll force something." Another problem is that Bungie games never explain what AIs are or what Cortana is. I'm still baffled. So far, I've only encountered two other AIs in games: Serina in Halo Wars and Dot in Reach, and none of them has aided me any more.
The Librarian says something along these lines at one time.
this. In essence, she claims that a race's genetics have been "reduced" from a spacefaring race to a stone age era. What's going on here? How? That doesn't add up; how can a race's technological level be the same as its genetic level? Wtf? The people shown in this terminal could easily travel into space, while the humans depicted in space could readily adapt to stone age conditions. That's not how it works 343, or you didn't explain what the heck is going on there well enough. And how, how could the Didac defeat the humans to the point where they forget about technology and revert to stone age levels? This whole situation may have been avoided by just correcting this line and substituting technological for genetic.
Didac's justifications are illogical. There's a portion where you have to fire some kind of generator that only has a shield on one side. That is just demeaning. Bungie seldom made mistakes like this; most of the time, it was clear why and where the heroes were aiming to accomplish what from a military standpoint, but for this incredibly evolved species to not protect their generator was a huge mistake. What exactly is it? Why doesn't the Didac just seal the tunnels that MC uses to board his ship? Why utilize strange space race barriers when you can just shut them? I don't know guy, here is where I felt the most drastic flip with Bungie and 343, it seemed like military activities and sciencey things always made more sense with Bungie, from all sides, there was always some sort of logic to it.
Which brings me to the inexplicable Humans vs. Prometheans battle.
The Prometheans/Flood idea
Look, I believe Bungie never did a decent job of explaining why the Flood was such an issue for sophisticated species, but 343 sure as heck added additional contrivances to the mix.
So the Forerunners are completely unaware of these huge infections on their planets? They are entirely naive, and they believe Humans assaulted them at random. They don't notice that humans are assaulting the planets with the biggest infections, do they?
Humans are unable to comprehend why they do what they do. Are you joking? When warned that a planet's secluded edges had been contaminated, the human Lord Admiral states "there is no time" to inform the Forerunners. Just… Well, I don't know, you might start by destroying just that portion, which would instantly impede the spread, and in the meanwhile, you can express the problem to the Forerunners, and even if you destroy the planet in the end, you'll have made progress with the explanation.
The entire Forerunner vs. Human conflict reeks of forced contrived conflict, which we frequently see in pop culture, where writers lazily throw some excuse that we all know can be easily solved with one conversation. It's like the damn flood, and it pervades everything from 20-minute sitcoms to high-budget Superhero movies. However, video games have the luxury of more time and language to fill out the mythology, which is why I find something like this less palatable.
So the Didac's solution (343's fault) is the only thing dumber than the Librarian's solution (which is Bungie's fault). Since this is about H4, I'll concentrate on the Didac, and 343 had the luxury of hindsight to maybe remedy or fill out Flood-related issues. So his amazing answer is to create synthetic Prometheans from Humans and Forerunners (Prometheans)? What do you mean??? This seems like it may be useful for identifying certain people or forming specialized squads. But how can you do it on a large scale?
Why don't you simply build more drones? And by drones, I mean any weapon that is directed by artificial intelligence or operated remotely. You already have that in LORE; all you have to do now is create additional Monitors with drone armies. We can also see the Flood using the Galaxy as a haphazard means to travel (in both Bungie and 343 games), and it simply seems wasteful and inefficient to convert humans into machines.
Another character that behaves unreasonably angry just to serve as a plot device. Even with the widespread AI nonsense, the Cap of Infinity behaves utterly insane and has an illogical mistrust of MC and the AI. Except when it comes to the Didac, he seems to believe and take everything seriously. Not to add, we see in Halo CE that a normal marine has cameras that record what he sees; I don't see why MC doesn't have that, given Cortana definitely sees what he sees via the visor. It's just a crazy, illogical quarrel that goes nowhere. The Captain is replaced with one of the most unremarkable and uninteresting characters I've ever seen in the Halo series. And the fact that this uninteresting man is the final person to speak with MC in the end irritates me much (despite one awesome line).
Nothing about them is ever explained, including why they now desire to worship the Didac. Covenant stinks of "gotta have a sequelitis" once again. 343 just wanted you to battle the Covenant, so he pushed you into a combat. To provide meet, nothing is truly stated. What is going on here? Is this a new sub-faction, or is this the main Covenant? As someone who was very committed in the Covenant's tale and mythology, as well as its characters (after H3, I was more interested about where the story would take the Arbiter and Covenant than anything else), this one stung, they seemed so dismissed.
This is most likely me, although I had no clue what occurred from the time the nuclear went off until MC was rescued. But at the very least, it provided us with memorable character moments.
With the plot and the Terminals, I can only rely on what the games provide. I shouldn't have to go out and purchase a book or sift through textual mythology in secondary media. When you can't explain the important narrative details to me, I feel like you're cheating. To me, side lore is something like how the Battle Rifle is produced; it's not essential in the game.
With the issues of H4, there is an evident pattern: it's a forced sequel, coming too soon with the same people whose journeys have ended (or are on pause). I believe they had to scrape up whatever Bungie had left and come up with a new danger, fresh forced conflicts. Prequels, midquels, and sequels focusing on various characters would have been a lot more rational but riskier strategy, in my view. They might have tried tossing things against the wall to see what sticks, or played Harvest with a marine, or additional ODST games, with various Spartans in different locations. Buy yourself more time to decide out what to do with MC and Cortana, and to provide a strong foundation for them when they return. But I'm sure that wouldn't have gone down well with Microsoft's upper management.
Even yet, I'm interested to see where the narrative goes and what happens next; if anything, Halo's gameplay cycle can always keep me entertained; it's a lot of fun.
Are you looking for PC games to play? Here are all of the new PC games to keep an eye on in 2021.
The pace of PlayStation 4 game releases isn't going to slow down in 2021. Here's everything to look forward to in the coming months.
Watch This Video-
The "Halo 5 is bad" is a question that has been asked in the past, and I tried to approach Halo 4 with an open mind, but there is a noticeable shift in the approach of storytelling, and it is not good. Reference: is halo 5 bad.
Related Tags
was halo 5 good
is halo 4 campaign good
why is halo 5 so bad
is halo 3 good
best halo game