For a game that is only in beta, Deadlands has some of the best storytelling I've seen since Elder Scrolls Online released last year. It's not just good writing – it also features one of the most memorable NPCs in MMO gaming history: Annabelle
"Deadlands is some of The Elder Scrolls Online's finest storytelling – Hands-on Impressions." Deadlands is a new zone in the game that offers players a chance to experience the Old West. I got to explore the area with my team and share our thoughts on what we found.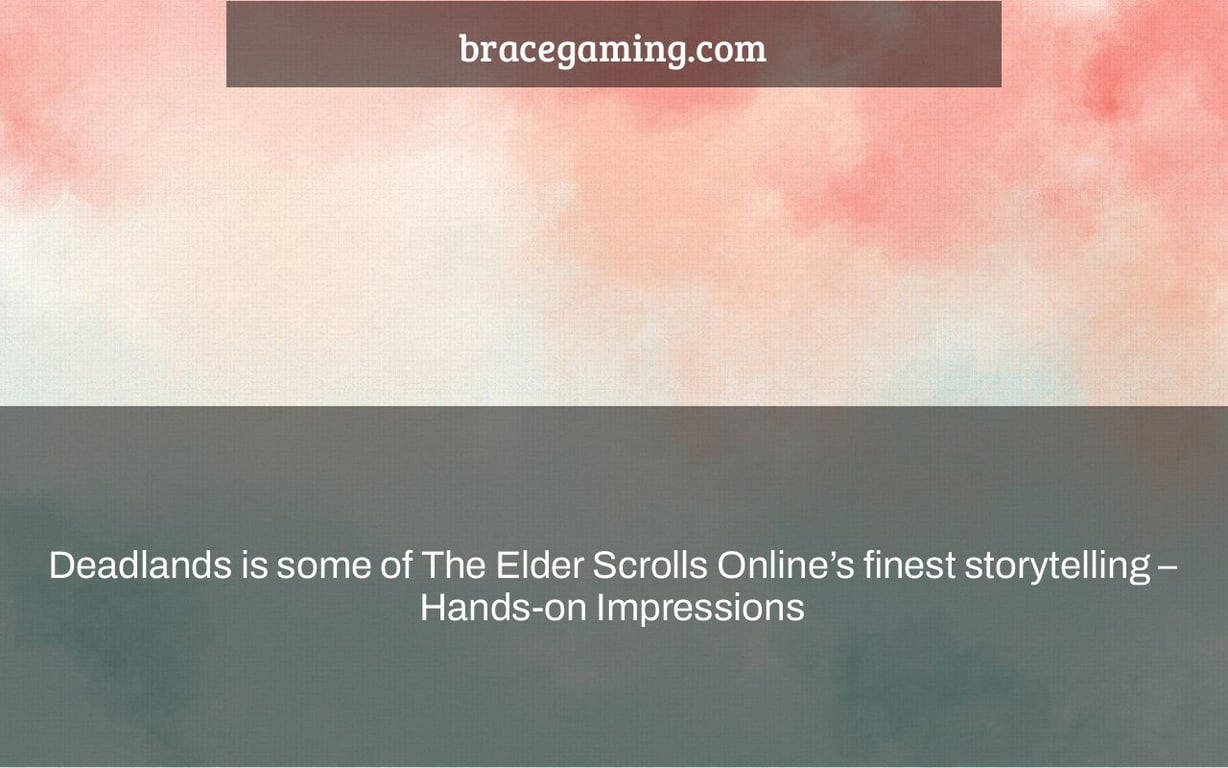 I knew as soon as I walked into the Deadlands in Elder Scrolls Online that it was going to be a spectacular adventure. It reminded me of the first time I walked through an Oblivion gate in Oblivion or first leaving the boat in Seyda Neen in Morrowind. There is a feeling of nostalgia and familiarity, and it was enjoyable to explore an unknown yet memorable region. There is so much to see and do in the expansion for those who haven't played the prior games; it seems like its own condensed game and considerably more than DLC.
My experience in Deadlands brought back memories of earlier Elder Scrolls games and Elder Scrolls Online expansions. Since The Elder Scrolls III: Morrowind, I've been a fan of the series, and Deadlands lives up to my expectations for the third installment. It's picture book Elder Scrolls, with its magnificent settings, fascinating and varied people, and big open world to explore. In the way they tell their stories and present their worlds, both convey a feeling of immensity.
Photographed by
Other MMOs, such as World of Warcraft, never drew me in with their mythology or plot. I was simply a toon going about the earth. I felt very much a part of the heroic explorer I was playing in Deadlands. From the primary goal to the side excursions, I was completely immersed in the story. When compared to prior expansions and DLCs, Deadlands seems to be a more polished offering. Although the map is not as huge as Summerset's, there are still plenty of things to do and see. You'll come across crafting places, hidden shards, and intriguing individuals that have never featured in a previous expansion, as well as get to explore a new and beautiful region.
The Order of the Waking Flame cult attempts to liberate Mehrunes Dagon from Oblivion in the main plot. This isn't a brand-new notion for the series. Even the major premise of the original game had you attempting to prevent Molag Bal from doing something similar. The tale of Deadlands, on the other hand, seems distinct, more original, and more fascinating. You spend the most of the expansion combating the cult in order to figure out how they intend to free the Daedric prince. When you first arrive in Deadlands, you encounter a strange person known only as the Anchorite. They were involved in the cult's activities, but their memories were obliterated. All she knows is that she was dispatched to locate Lyranth, a Daedra figure you met earlier in Blackwood, in order to assist in the cult's destruction. To put a stop to the cult, you form a group. You learn they're utilizing a machine that converts Daedra into wild abominations along the way, and you meet a few critical characters the cult needs to finish their mission. Them of the individuals you encounter has their own interests and aspirations, and the voice acting adds to the lifelikeness and realism of each.
Photographed by
The core narrative is simple — halt the cult and prevent Mehrunes Dagon from bringing the world into Nirn — it isn't confusing or difficult, and it isn't clichéd in the sense that you are the chosen one, destined to save the end of the world. It's set up like a Sherlock Holmes story, and you're tasked with figuring out why and how the cult plans to unleash the Daedric Prince of Destruction. You'll spend your time talking to NPCs, reading books for clues, and creating an army of unique people to help you defeat the cult. Even though the game is largely focused on battle, you may finish many of the tasks without ever battling an adversary.
The plot is divided into two main segments. The first is a stand-alone chapter from the Deadlands expansion, while the second is a continuation of the Blackwood story. You won't be puzzled if you leap into Deadlands without first playing Blackwood since the first major quest doesn't even mention the events of Blackwood. You do learn about what occurred in the prior event, which helps establish the tone for arc two, but it's still its own story with its own cast of people.
There have been multiple DLCs and expansions for ESO, each with its unique story. Although they are not directly linked, you will encounter characters that will appear in future DLCs. Deadlands follows in the footsteps of previous games by include known characters who may aid or harm you. It's one of the things that draws you in. Rather of entering into the game alone, you'll be partnered with people and hear their perspectives on current events. It's a fantastic way to convey a tale, and it makes the world seem vibrant and alive.
Photographed by
The Havocrel, one of Deadlands' roving bosses, is one of the game's greatest features. They're a new addition to ESO, and to take down Irncifel the Despoiler, for example, you'll need to work with a group of other people. They aren't discovered in dungeons or delves, but rather scattered around the landscape of the Deadlands. They spawn at random locations on the map and move about until they are vanquished. They're difficult yet worthwhile to take on.
Now that ESO is an online game where you may go on adventures with a large group of people, not everyone wants to play that way. If you want to do it alone, Deadlands is the game for you. ESO still seems like a single-player game at its core, and Deadlands definitely matches that description. The main mission may be completed totally on your own. However, you will need to work together with other players on a few side objectives.
Deadlands is a fantastic conclusion to a fantastic chapter in Elder Scrolls Online. I can't help but wonder if the Elder Scrolls VI should take more influence from Deadlands while we wait for it to be released. Perhaps not in terms of multiplayer or gameplay, but in terms of the way it conveys its tale. Deadlands isn't the largest expansion, but its tiny size allows it to tell a huge story. It doesn't have the grandeur of places like Elswyr, Skyrim, or Summerset, but it does have interesting people, beautiful settings, and a captivating story that keeps you hooked and wanting more.
Watch This Video-
Related Tags
is elder scrolls online good
elder scrolls greymoor
eso ps5